Ever wondered how a wedding dress is actually made? All our GOWN designers make their dresses in-house in the UK. Miina, Director of Indiebride London shares the journey of one of their creations. Read on to discover exactly what is involved in making a wedding dress.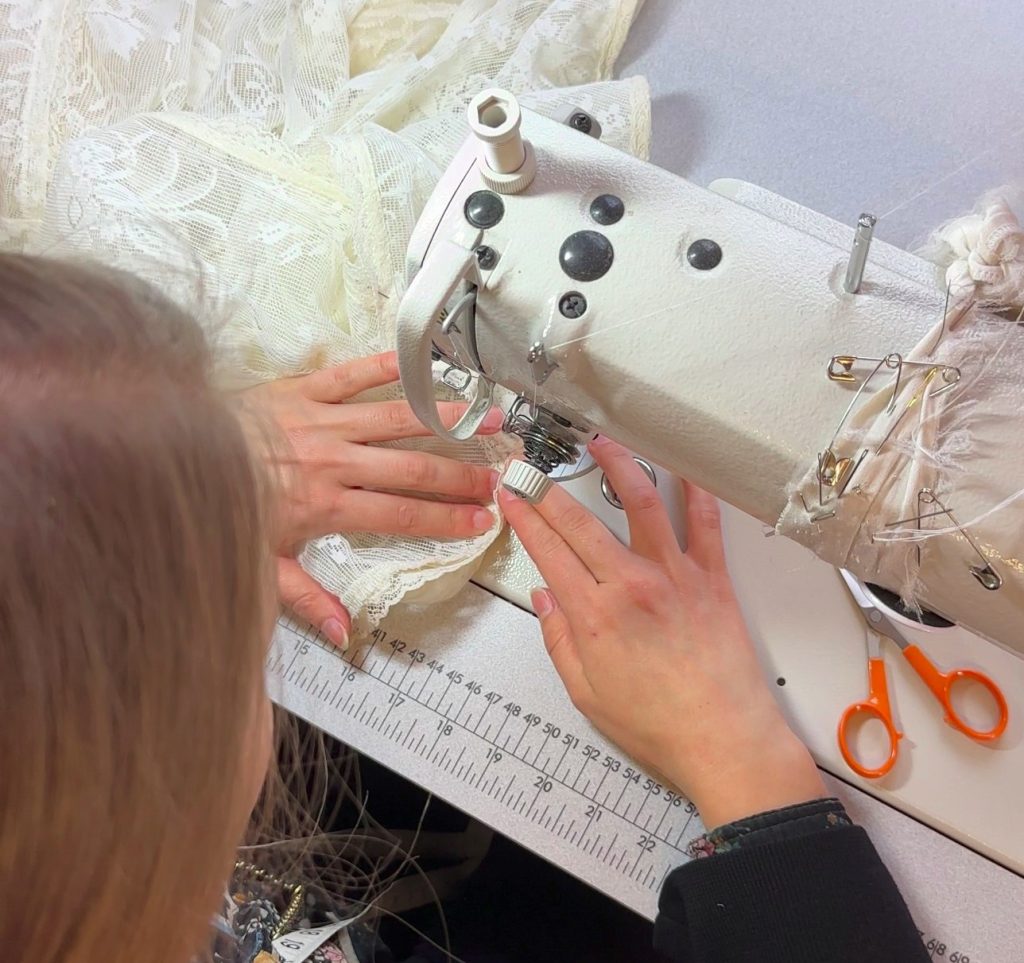 Our wedding dresses are made in London
Indiebride London dresses are proudly handmade in our London studio. This ensures not only that we know exactly who made your dress and that their working conditions and pay are fair, but also that we don't have to deal with delays caused by a factory in another country. We have complete control over the quality of our gowns. It takes hours and hours to handcraft a dress and even longer to tailor it to each bride. The magic begins the moment you enter our showroom and once you place an order for your handmade wedding dress, we get to work.
Wedding dress sizing
The first thing that happens is that the fabrics for your wedding dress are ordered. Before we do anything else, we steam them to prepare them for cutting. Certain natural fibres, like silk, shrink when wet or heated, thus it must be pre-shrunk before cutting. When you order a made-to-measure or customised dress, we will adjust the standard size patterns to your measurements or style preferences. Sometimes an entirely new pattern is required. If you chose a standard style and size dress, we will cut the pieces using a standard size pattern. Paper patterns are laid on top of the fabric and cut up by hand to create pieces.
Making your wedding dress by hand
Once all the pieces of the main fabrics and the linings are cut out, they are prepared for sewing. Interlining is attached to the necklines and sometimes armholes as well. Then it's time for the most exciting part. Every seam is meticulously sewn, understitches are made, and seams and details are pressed or steamed in between different phases of work. The zip is added last, and the entire dress is steamed once again before being placed in a garment bag to await the fitting. It's fascinating to watch a handmade wedding dress take shape right in front of your eyes!
Now, the dress has to be altered to fit you perfectly. There are usually 1-3 fittings needed to achieve this. During a fitting, you will put on your dress and I will look at how well it fits you. Pins, cuts and tucks will be made to your dress.  Then we carefully alter and tweak the dress to better the fit until we reach the desired outcome. Once it fits perfectly we will add all the finishing touches; bind the armholes and the zip, turn the hem, hand stitch in loops and buttons, hooks and eyes, hand stitch the zip edges in place, hand stitch press buttons, necklines and so on. The result is a perfectly fitting wedding dress that was handmade just for you.
The process of hand-crafting a wedding dress is time-consuming and requires a great deal of artistic and creative talent and know-how. I spent 5 years studying fashion in Finland and Italy, refining my skills in dressmaking, design, and pattern cutting. I do everything myself because I love this art so much. The look on a bride's face when she first tries on her handmade wedding dress is priceless!
Miina
xx