One of the most exciting aspects of wedding planning is finding the perfect wedding dress. With so many options available, it can be overwhelming to navigate wedding dress buying due to the various types of wedding dresses. In this blog, we'll explore the six different types of wedding dresses, including pre-loved, off-the-peg, bespoke, and couture. Each type offers unique advantages, allowing brides to find a dress that suits their style, budget, and preferences.
It is worth noting that there can be overlap between each type of wedding dress and all designers may use different terminology for each type of dress.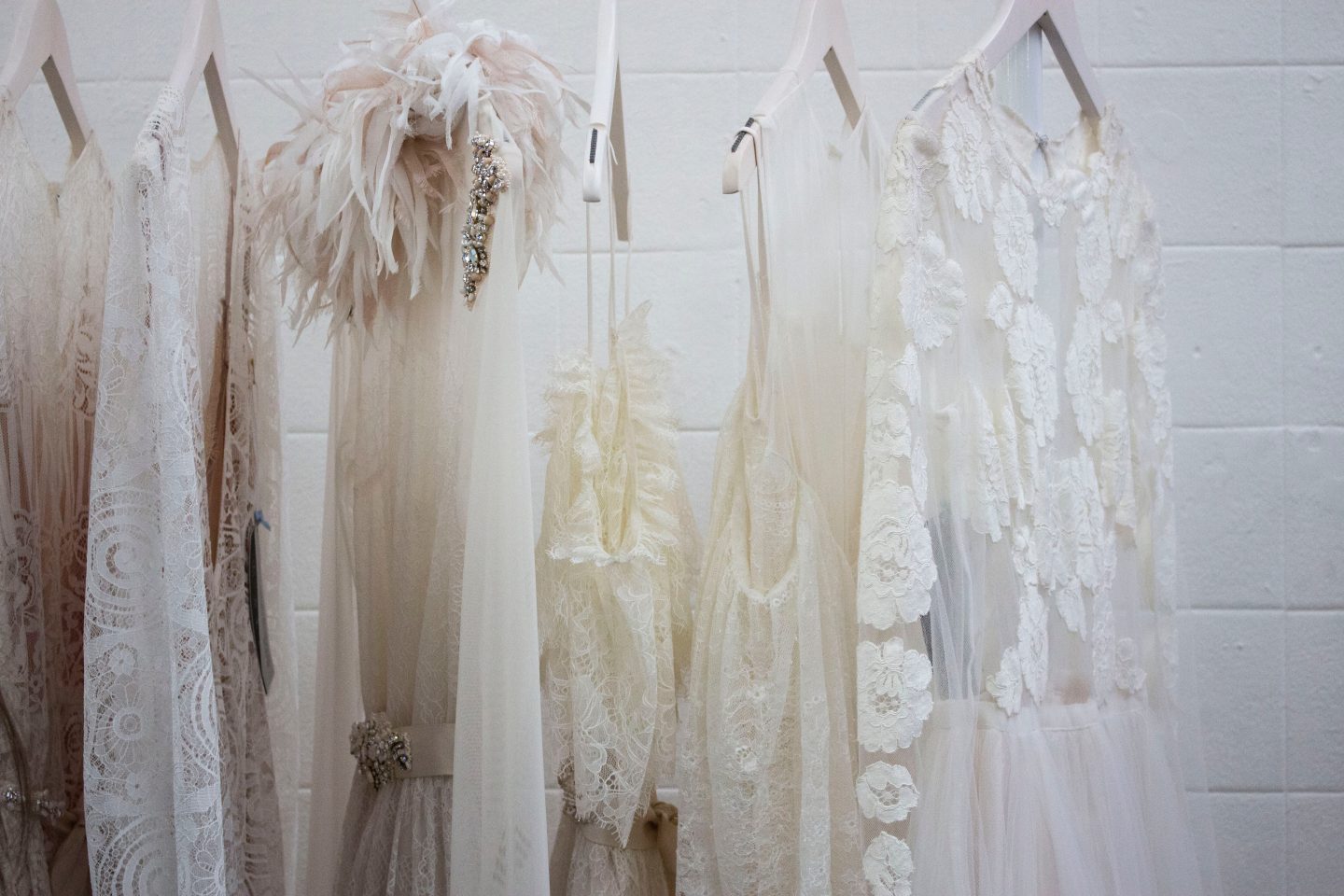 Off-the-Peg Wedding Dresses
Off-the-peg wedding dresses, also referred to as ready-to-wear or in-stock dresses, are mass-produced gowns available in bridal boutiques. These dresses are designed to be purchased directly off the rack and are available in various sizes and styles. Off-the-peg dresses are an excellent option for brides with a limited budget or a shorter timeframe for wedding planning. While they may not be entirely customisable, they often offer a wide range of designs to suit different body types and personal preferences. This does mean that you may need to get your wedding dress altered to fit you perfectly, so you will need to factor this into your budget.
Made-To-Measure/Made-To-Order Dresses
Made-to-measure or made-to-order wedding dresses are similar to off-the-peg dresses but the main difference is you cannot take the dress home. Brides visit a boutique and try on a collection of samples usually by designers such as we have here at GOWN, and then the designer and their team then make the dress. This can be either to a bride's exact size or to a standard size; this process can take up to 8 months depending on the style. If the dress arrives in standard size it may still need to be altered. Some designers do allow slight customisation also.

Bespoke Wedding Dresses
Bespoke wedding dresses are custom-made to a bride's specific measurements and design preferences. Working closely with a professional dressmaker or designer, brides can create a gown that reflects their unique style and vision. From fabric selection to intricate detailing, every aspect of the dress is tailored to the bride's specifications. Bespoke dresses provide a truly personalised experience, ensuring a perfect fit and the opportunity to incorporate sentimental elements into the design. There will be no alteration time or cost needed with this option.
Couture Wedding Dresses
Couture wedding dresses are the epitome of luxury and exclusivity. Created by bridal designers, these dresses are crafted with the finest materials, exquisite detailing, and exceptional craftsmanship. Couture gowns are often entirely handmade, generally involving multiple fittings and hours of handwork. These dresses are known for their impeccable quality, intricate embellishments, and the highest level of customisation. There will be no alteration time or cost needed with this option.
The difference between bespoke and couture dresses is a bespoke dress is usually following a style or pattern already created by the designer and then customised to your needs or desires. For example, you add a different sleeve choice or neckline. A couture dress is designed solely for you and is a one-of-a-kind gown.
Pre-Loved Wedding Dresses
Pre-loved wedding dresses, are also known as second-hand or used wedding dresses. These dresses have been previously worn but are typically in excellent condition. Brides looking for budget-friendly options or those who prioritise sustainability often turn to pre-loved dresses. They can be found in consignment boutiques, online marketplaces, or through specialised wedding dress resellers. Pre-loved dresses offer a chance to wear designer gowns at a fraction of their original cost, allowing brides to save money without compromising on style. These can also be vintage or ex-samples, maybe only worn before on a catwalk. Just like with off-the-leg dresses, you may need to factor in time and money for alterations.
Rental Wedding Dresses
Rental wedding dresses have gained popularity as an alternative to purchasing a dress outright. Brides can rent their dream gown for a specific duration, typically for the wedding day and a few days beyond. Rental services often provide a wide selection of designer dresses at a fraction of the retail cost, allowing brides to wear high-end gowns without the long-term commitment or expense. This option is ideal for those who prioritise budget-consciousness or want to experience wearing a luxury dress for their special day.
When it comes to wedding dress buying, there are several types of dresses available to suit every bride's style, budget, and preferences. Whether you opt for a pre-loved dress, off-the-peg option, bespoke creation, couture masterpiece, or rental gown, each type offers its own unique advantages. It's essential to consider factors such as budget, time constraints, desired level of customisation, and personal style when choosing the perfect wedding dress. Remember, the most important thing when wedding dress buying is to find a dress that makes you feel confident, beautiful, and ready to walk down the aisle on your special day.