When it comes to wedding fashion, the traditional one-piece wedding dress has long been the standard. However, modern brides are breaking away from tradition and embracing a more versatile and personalised approach to their wedding day look. Bridal separates, consisting of a mix-and-match combination of a top and skirt or trousers, have become a popular choice among brides looking to make a statement on their special day. In this blog, we'll explore the myriad benefits of choosing bridal separates, from eco-friendly options to the freedom of expressing your unique style. Plus we will share some fabulous pieces by our GOWN members.
Eco-Friendly Elegance
One of the standout advantages of opting for bridal separates is the eco-friendly aspect. Many brides are now seeking sustainable options for their wedding attire, and separates offer a solution. By choosing separate pieces, you can easily mix and match items you already own or select pieces that can be repurposed for other occasions. This reduces the environmental impact of your wedding outfit, allowing you to be both stylish and eco-conscious.
Wear It Again
Gone are the days of banishing your wedding dress to the back of the wardrobe, never to be worn again. Bridal separates open up a world of possibilities for future wear. The beauty of separates lies in their versatility; you can pair the top with a chic pair of jeans for a date night or don the skirt with a different blouse for a formal event. This not only makes your wedding outfit a more practical investment but also allows you to relive the magic of your special day on multiple occasions.
Switch Up Your Look
Bridal separates provide a unique opportunity to switch up your look throughout the day. Begin the ceremony in a classic, romantic ensemble and transition to a more playful or contemporary style for the reception. This flexibility ensures that you feel comfortable and confident at every moment, and it adds an element of surprise for your guests. The ability to change your look effortlessly is a game-changer for brides who want to make a memorable impression.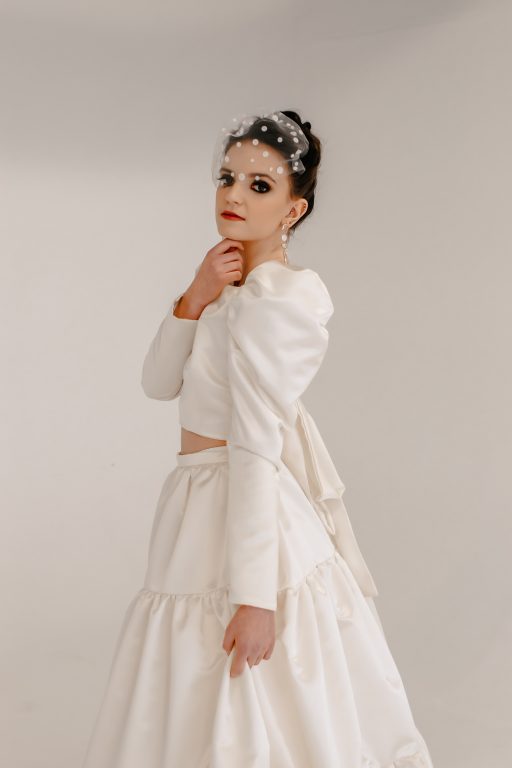 Feel More "You"
Your wedding day is a celebration of your love story, and your outfit should reflect your individuality. Bridal separates allow you to curate a look that truly feels like "you." Whether you prefer a bohemian crop top with a flowing skirt or a modern lace blouse paired with tailored trousers, the possibilities are endless. When you feel authentic and true to yourself, it radiates through your entire wedding day, creating a more intimate and personal experience.
Fashion Forward and On-Trend
For the bride who wants to make a bold statement, bridal separates offer a chance to be on the cutting edge of bridal fashion. Mix textures, play with asymmetrical designs, or experiment with unexpected pairings to create a look that is both contemporary and timeless. Embracing bridal separates allows you to showcase your fashion-forward sensibilities, setting the tone for a wedding that is anything but ordinary.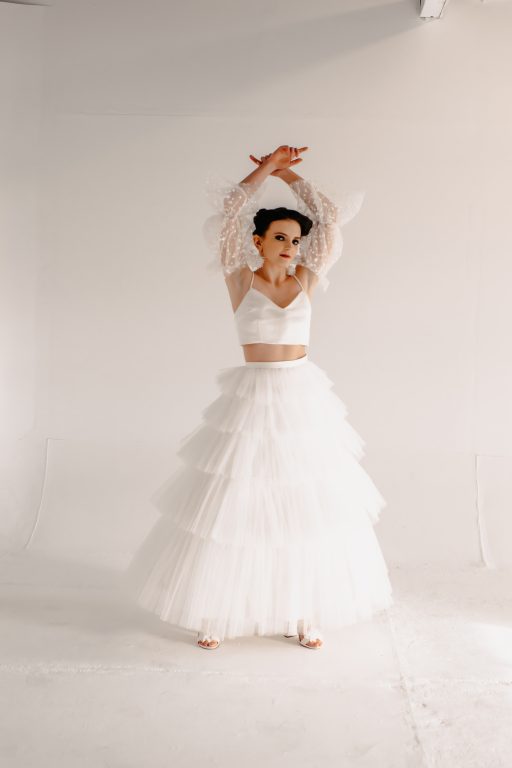 In the world of bridal fashion, bridal separates stand out as a modern and innovative choice for brides seeking a unique and personalised look. So, why settle for the traditional when you can embrace the extraordinary with bridal separates?