When I opened my boutique a year ago, I knew I wanted to create a space that stood for something. If I was going to create something new – additional to what is already available I wanted to do it right, add value and make a positive impact. After all, what would be the point of starting something that was the same as everything else? 
My earlier career had taught me about working with ethical supply chains, sourcing sustainable materials, and the importance of diversity and inclusion and so I knew this needed to be at the forefront of my ethos. Finding the perfect space to open my boutique was the catalyst of my journey to finding responsible, ethical, and purpose-led bridal labels. Situated in rural Buckinghamshire, our traditional barn is set in a conservation area and had been converted to high standards that met the most recent building regulations. The barn was designed to be inclusive, with easy access and suitable facilities for wheelchair users. The owner installed an eco-heating system and the estate in which the barn is located collects solar energy which is given directly to the grid. The barn and surrounding woodland and meadows provide valuable habitat to local wildlife. Finding this treasure, a little off the beaten track but in a place that was within easy reach for brides to visit, gave me a great foundation on which to build my purpose-led business.
On my hunt for designers, I quickly came across a really cool UK designer creating pieces that I hadn't seen before, I honestly hadn't realised wedding dresses could look like this and so very quickly I set the style direction for the boutique. I wanted a shop that wasn't just filled with pretty dresses, but one that celebrates, through carefully curating and editing the collections, unconventional bridal style, sourced from purpose-led designers in a setting that is luxurious but relaxed, stylish not trendy.
I wanted to welcome brides from all walks of life to feel welcome, to experience something special and elevated from their normal shopping experiences but one where they could feel safe and not nervous about touching the couch or saying the wrong thing. What better way to feel good than with a great big hug from the British countryside and locally made garments made from the softest tulles, most delicate vegan silks, and intricate craftsmanship?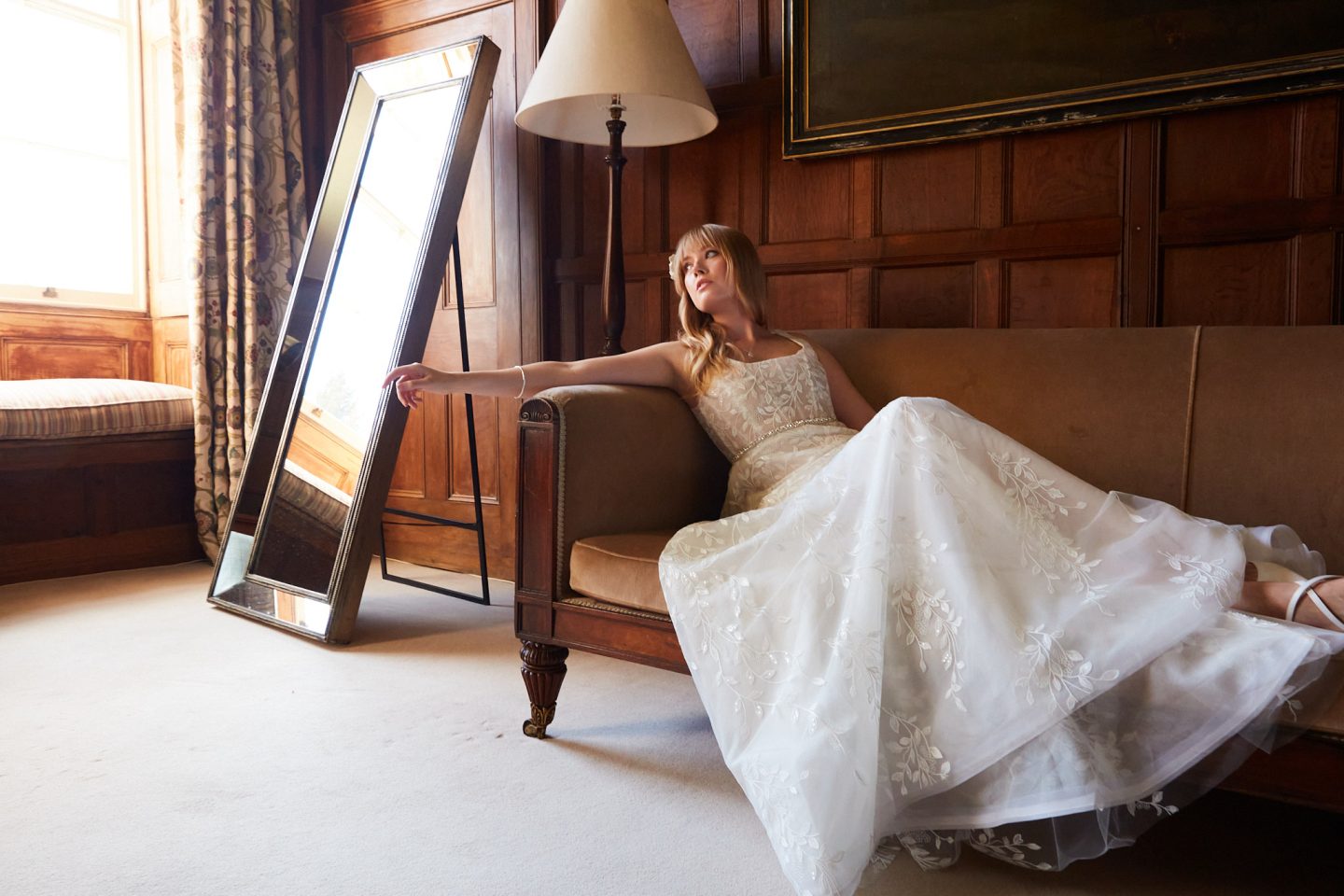 There are so many benefits to buying British.
It goes without saying that supporting British design and manufacturing enhances local areas, supports communities and perhaps most important it nurtures talent, up-skilling local people, and teaches artisan and couture techniques that would otherwise be lost. Good seamstresses are hard to find here in the UK. I guess the appeal has waned over the years and as these manufacturing methods have been outsourced overseas there has become less of a need for these skills. Many of our designers are based in cities and towns that were once home to some of the best textile mills and so are grounded within this once-booming industry.
I loved the British designers I discovered not just for how they create but for what they create. British bridal style stands apart from other international labels. British-designed and made dresses tend to offer a cleaner aesthetic, they showcase the beauty in simplicity and seem liberated to design in a way that breaks bridal stereotypes and offers a different perspective on bridal fashion. Their gowns tend to be less structured and so are comfortable to wear with a keen focus on materials and the overall wearability of the dress. The key criteria for many of my brides is that they want to tuck into the delicious food that they have spent months deliberating over and must be able to throw their hands up in the air and dance the night away with their partner and loved ones. My brides won't suffer for fashion. Yes, they want to look good, yes they want a dress that feels unique and is a reflection of them but they want to feel as good as they look.
British designers know British women.
They design for you because they are just like you. I have found that generally, their sizing is better, more realistic and inclusive than other traditional bridal gowns. There is just nothing worse for some women than ordering the best dress you will ever buy 2 sizes higher than your usual high-street dress size. Our designers understand women, after all they are women and they know what's important. Our designers are creating gowns for women who want to set aside traditions and be unique and this is paving the way for more innovative designs, material compositions and new ideas.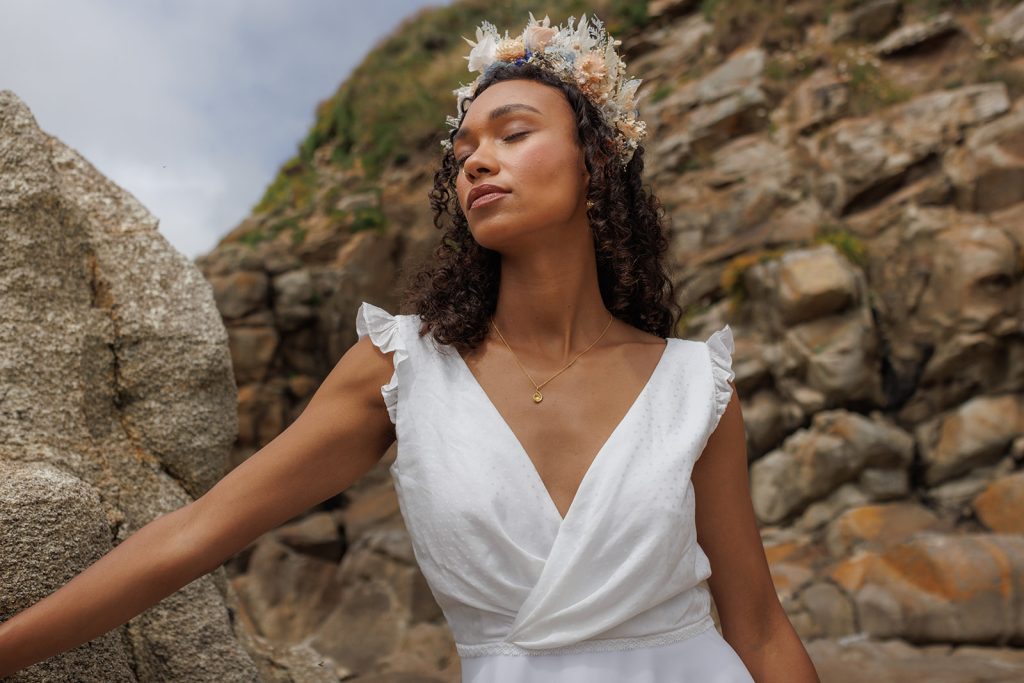 Shopping locally has other great benefits.
With less distance between the designer and the boutique, I find you can quickly establish a great working relationship directly with the designer. It just feels easy, easy to connect, communicate and create together. This enhances the experience for the bride too. Not only can the pieces often be made quicker than many other brands, the customisation options tend to be greater and the designers are best placed to guide a stylist through what is possible enabling the bride to have a gown that is truly unique. The element of personalisation is of growing importance to brides as they want to be seen in something that their guests haven't seen before. Women so often know their own style and they can take a beautifully designed dress and add their own touch. Immediately the dress is so much more special to them and they leave knowing they have found something stylish and original.
We've been spoilt recently by so many celeb weddings that have disrupted convention bridal style. They have bought back the mini, shown us how to transition a look from day to night and be it traditional, modern or achingly cool vibes they have given us permission to be ourselves. What better to embrace this than by shopping locally and buying British?
By: Vicky Angell, lover of purpose lead bridal design & Owner Love & Loved Bridal
Enquiries: @loveandlvoedbridal vicky@loveandloved.co.uk