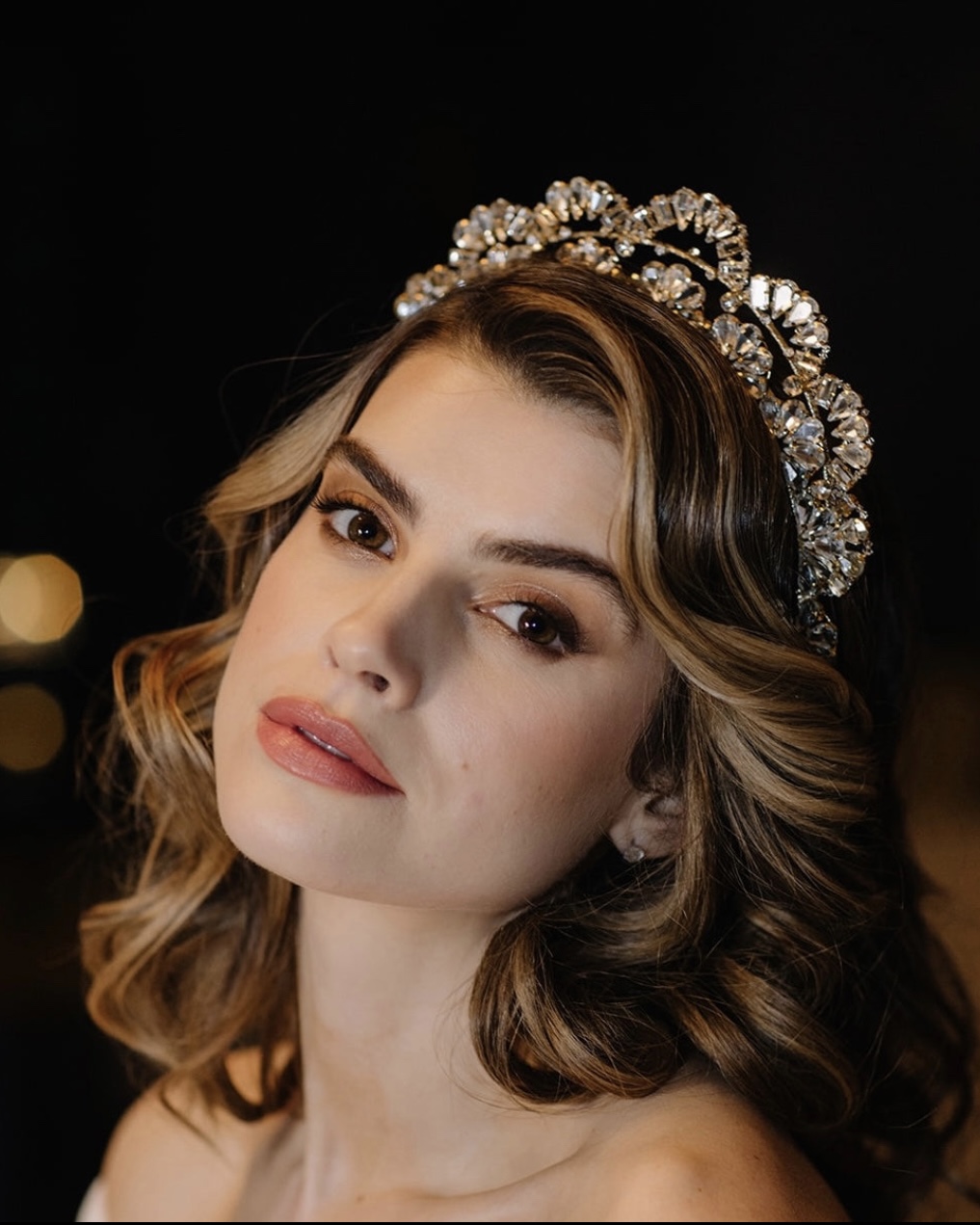 Description
HOW CAMILLE BEGAN
Camille headpieces label was created and founded by British designer Jayne Nevins in late 2022. Jayne became captivated and inspired in her teens by the glamorous actresses and fashions from old Hollywood films. She loved the chic style of Greta Garbo who she first came across on an old film poster advertising her role in a movie called 'Camille'. It seemed only fitting that her brand should be named after her early introduction to this glamorous era.
Since 2012 Jayne has designed all kinds of headpieces and her designs have previously been featured in publications such as Italian VOGUE, You & Your Wedding, Perfect Wedding and Asian Bride. More recently being featured in Rock n Roll Bride magazine and comedian, Katherine Ryan is wearing her headpieces in her upcoming 2023 travel show for C4.
CAMILLE STYLE
Jayne has refined her signature style that she defines as 'old Hollywood meets modern lux' using the finest grade crystals, rhinestones and luxury materials. Her elegant crowns, tiaras, headbands and jewellery have the ultimate sophisticated and elegant sparkle.
OUR 2023 COLLECTION – A SPRINKLE OF STARDUST
This collection was inspired by vintage Hollywood movies and the actresses of that time combined with years following Oscar ceremony fashions added to contemporary glamour. Jayne has incorporated on trend bridal fashion with feathers, bows, halo headbands, crowns and statement earrings with classic design influences.
CAMILLE BRIDES
The Camille headpieces brand is glamorous with a hint of retro for modern brides. They love being transformed into their most glamorous selves wearing our designs. The show stopping dazzling stones and crystals make our brides feel like superstars.
CAMILLE VALUES
Jayne is a perfectionist and has developed techniques that provide high end luxury crowns, tiaras and headpieces without visible wiring. The finish to her work is exceptional, something that she takes great pride in and all headpieces are beautifully packaged. We believe in old fashioned customer service and will go the extra mile to ensure our customers are delighted with our products.
CAMILLE STOCKISTS
We want our stockists to be successful so that we can both flourish and provide the best service for our brides. We embrace the need to collaborate to ensure success. Jayne doesn't believe in 'hard selling' as she considers the designs and their high quality speak for themselves. She is experienced in considering your labels, what dresses you stock and in helping you to choose the right headpieces and jewellery that will work for your collections and your brides. Whilst based in Wales, Jayne will travel anywhere in the U.K. to meet and work with Camille stockists. She loves trunk shows and designer days or evenings as Jayne is a 'people person' and brides adore her fun outlook and wealth of design ideas. She loves her job and it shows and if there is a glass of bubbly and nibbles involved she will be your friend for life!
We offer a bespoke service for brides and retailers working with both to either amend our existing designs or create new designs.
Send Message to listing owner